Adventure Therapy
Outward Bound's Adventure Therapy programs combine psychological clinical treatment with adventure learning to deliver positive mental health outcomes for participants, their families and carers.
"Outward Bound's program has given me coping skills for my depression and anxiety. It's helped me see myself in a better light."
Tylah, age 16.
"I've bonded more with more people than I thought was possible with my condition. I feel more confident knowing I'm not alone."
Youth Advisory Group participant 2019
"When I don't think I can push past something I'll think back to this experience and realise if I can keep moving here I can keep moving in life."
Zarica, aged 17
"I loved the encouragement from my peer group and the genuine relationships it helped me form. It left me feeling capable."
Karralika participant 2019
Outward Bound Adventure Therapy programs take participants on a 5-day outdoor adventure where they will learn to value themselves, better understand their mental health triggers and how to cope with them, trust other people, be a valued and reliable team member and build resilience in the therapeutic natural environment.

Designed by Dr Simon Crisp, current Outward Bound Australia Board Member and founder of Wilderness Adventure Therapy, and delivered by Outward Bound alumna and Clinical Psychologist Dr Peta Hoffmann, Outward Bound Adventure Therapy programs are a specialised clinical approach to therapeutic outdoor programs.
They combine these three areas of expertise; therapeutic qualifications and experience, outdoor leadership training and experience and specific specialized training and experience in Wilderness Adventure Therapy.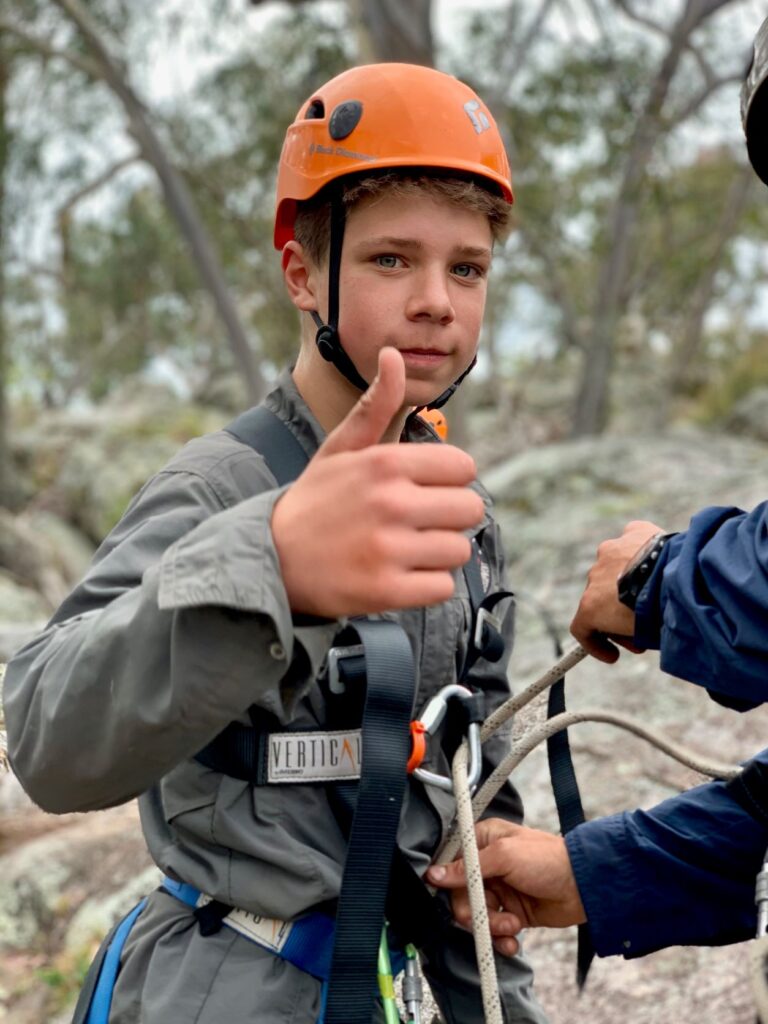 Adventure Therapy programs for groups
If you work with a group of people suffering from mental health issues and you'd like to bring them on an Outward Bound Adventure Therapy program please contact Ian Wells on 0419 203374 or email ian.wells@outwardbound.org.au.

A typical 5-day program for up to 16 participants costs approx. $25,000 including the preliminary evaluations and assessments. If this is not in your budget we can apply for Government or philanthropic support through joint grant applications. You could also make an application to the Australian Outward Bound Development Fund to support your program.
Adventure Therapy programs for individuals
Adventure Therapy programs for individuals present considerably more challenges due to the need to individually assess each participant's specific situation. We don't currently have any scheduled but understand community need for these programs. When we clear a two year backlog of programs we haven't delivered due to COVID, we'll schedule Adventure Therapy programs for individuals. In the meantime, please register your interest by emailing mailbox@outwardbound.org.au
Adventure Therapy Training
Outward Bound, in conjunction with Dr Simon Crisp and Dr Peta Hoffmann, deliver a suite of Wilderness Adventure Therapy Training courses.

This training leads the field as a responsible and accountable means to recognise a minimum level of training in an ethical and evidence-based program that has been extensively trialled in clinical, community and school settings for over 15 years.
Treatment Effectiveness of Wilderness Adventure Therapy – A Comprehensive Evaluation (Summary), Dr Simon Crisp
Our Partners: Benefactors and Beneficiaries