Does your teenager need an adventure that will push them outside of their comfort zone, and help them develop confidence and life skills?
Outward Bound offers a variety of programs designed specifically for teenagers, including expeditions, leadership courses, and personal development programs. These programs provide a unique opportunity for teenagers to explore the great outdoors, make new friends, and learn valuable skills that will last a lifetime.
Make friends and build confidence
Through these challenges such as hiking, camping, abseiling, rafting, and ropes courses, teenagers learn to develop problem-solving abilities, build resilience, improve social skills, and gain confidence in their capabilities.
Some teens find it difficult to make new friends and connections. Outward Bound's holiday programs bring diverse groups together in a supportive environment. Highly trained staff are passionate about and skilled at bringing out the best in people. Young people very quickly find themselves making new friends and building social confidence.
Outward Bound programs are designed to help teenagers better understand themselves, their strengths, and their values. Through this process, they learn to set goals, make decisions, and take responsibility for their actions.
Putting screens away
It's no secret that parents are concerned about how much time their children spend on screens and social media. Outward Bound is a chance to disconnect from technology and reconnect with themselves and nature.
Through their activity-rich adventurous programs, teens rediscover their curiosity and how to find joy through nature, friends, and the simple things in life.
Learning self-responsibility
Outward Bound is all about teamwork. Participants work together to achieve shared goals, learn how to communicate effectively, resolve conflicts, and support one another. These skills are invaluable for teenagers as they navigate their way through school, social relationships, and future careers.
Participants cook for themselves and each other. Outward Bound encourages them to take initiative for themselves. Teens return home with more gratitude, participate in conversation, and a willingness to engage around the house.
No experience needed
It doesn't matter if your child has never camped or done anything like this before. Outward Bound provides a safe and supportive environment for your child to thrive.
Outward Bound's commitment to inclusivity and diversity means their programs cater to people of different ages, genders, backgrounds, and abilities.
Please note, however, the Outward Bound team are not trained disability support workers or trauma informed and OB programs are not for everyone.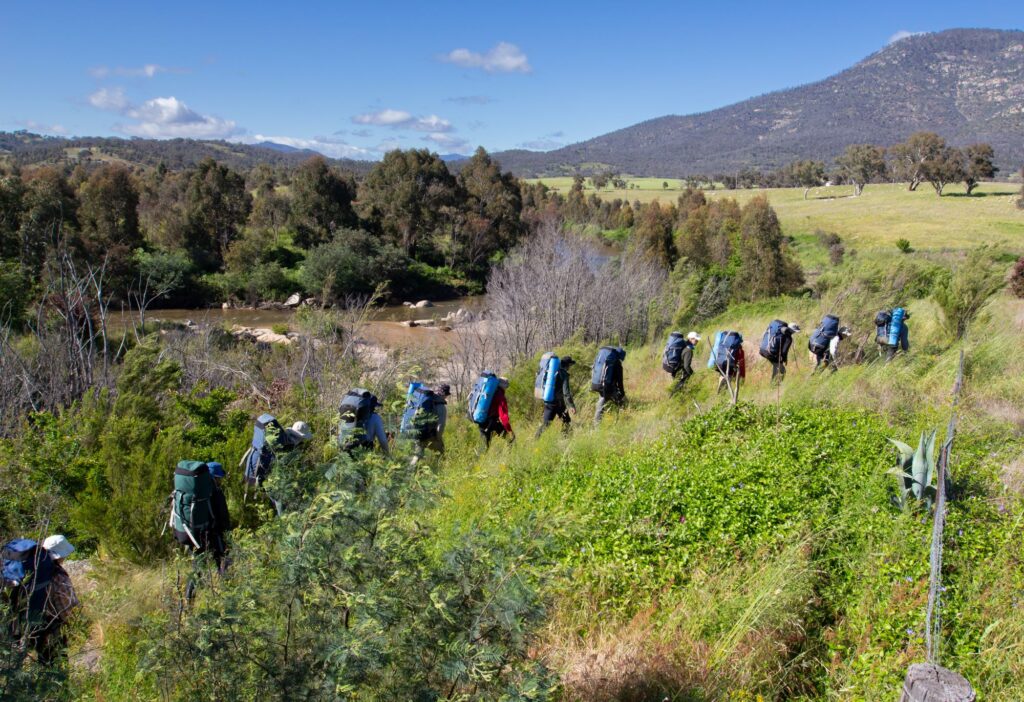 You're in safe hands
Outward Bound has been offering programs for young Australians since 1956. Your child will be supported by highly trained staff and internationally recognised safety systems and reputation. Over 250,000 Australians have completed an Outward Bound program, putting them at the forefront of youth development and outdoor education.
On Canberra's doorstep
Outward Bound's bush property in Tharwa and access to Namadgi National Park makes their programs easy to access for families in Canberra. Exploring the local area also builds confidence and skills to one day venture out on their own adventures in life and nature.
Programs for ages 12+
Outward Bound has programs for various ages and abilities in the January, April, July, and September school holidays. You can find the right adventure for your child on their website or feel free to give us a call.
This could be an incredible opportunity for your teenager looking for adventure, personal growth, and an unforgettable experience. The skills and confidence gained through these programs will benefit them for a lifetime, and the memories made will last a lifetime as well.
Scholarships are available for those who require financial assistance.