Current staff and alumni ready to go for the first week of the ADFA program.
What a joy it is to get back out bush with Outward Bound. It was as if twenty years hadn't passed since I last put on a pack as a group leader. I wasn't alone–I joined a high-calibre group of current staff and Outward Bound legends who still have what it takes.
The mission was a 5-day intensive program for the Australian Defence Force Academy exploring the dynamics of emotional intelligence and leadership.
300 second-year Trainee Officers from the Air Force, Navy, and Army divisions joined an Outward Bound leadership program that moved between Tidbinbilla Nature Reserve, Booroomba Station, the Murrumbidgee River Corridor, and Namadgi National Park.
I got to explore new expedition routes and camp in some stunning locations that weren't used back in the 'old' days.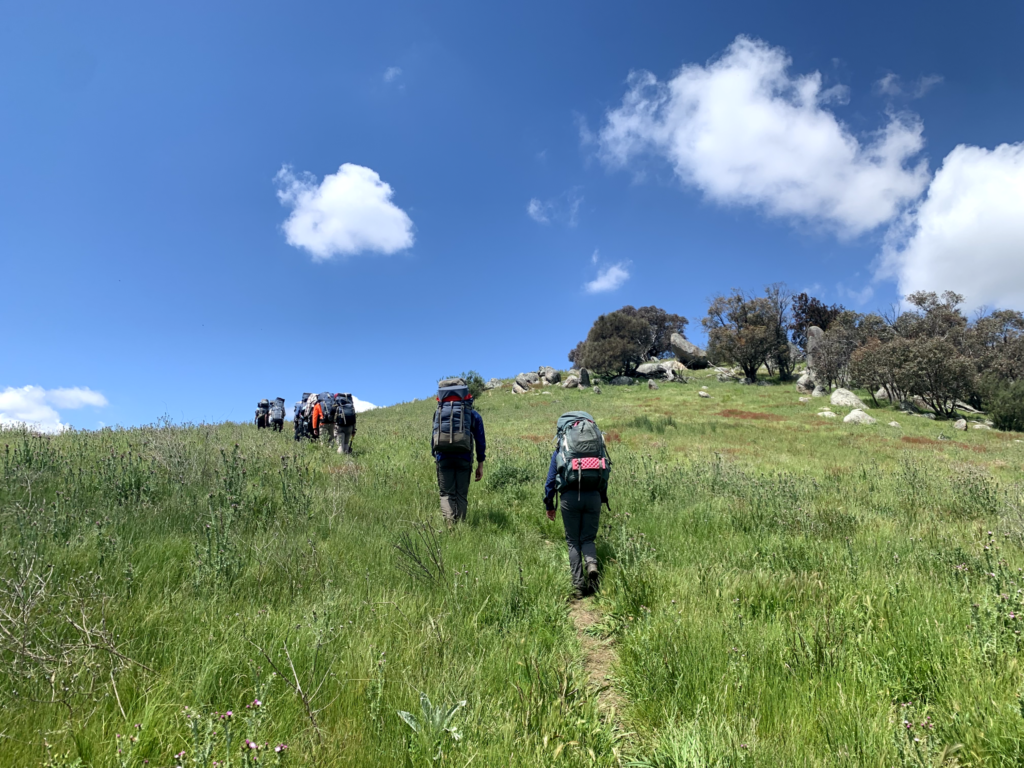 Ascending Castle Hill. The expanded Tharwa 'circuit' includes stunning scenery and great dynamics for learning leadership.
Outward Bound Australia's current team is super impressive, and our operational systems keep going to new levels. The equipment is more slick (no more plastic bivvies or bomb canisters) and safety systems are at a whole new level. As an alumni coming back, I felt 100% supported and able to give my best because of the strength of my co-leader and the team around us.
Our alumni also brought renewed energy, passion, and skill to the program. We spent a good chunk of prep day exploring leadership models, with alumni such as Jakarra Hills, Matt Guy Paul and Wayne Dyson lending their knowledge and experience.
After more than two decades honing my facilitation skills in other professional contexts, it felt great to be able to bring those back to Outward Bound and share that experience with a new generation of participants and staff.
It became a fruitful partnership that showed me Outward Bound is in great hands and that our staff alumni still have so much to offer these amazing programs.
Seeing how the participants responded to the program highlighted the relevance of Outward Bound is to the times we are living in. Across all groups, final debriefs revealed the enormous growth each participant had in developing their self-awareness, emotional intelligence, and leadership skills.
From left: Sarah White (2016-17), Benny Callaghan (1999-2001 & 2005-09), Wayne Dyson (1982-83 & long-time supporter), Matt Paul (2016-19), Sam Bright (1995-2000, and still going), and Jakarra Hills (2015-2020).
The program ran over two separate weeks with several alumni joining us in that time. Included in the second week was Aaron Funnell, who recently rejoined the OBA team as School Director after working with Outward Bound Hong Kong and Vietnam over the past two decades.
Outward Bound legend, Sam Bright, brought his trademark 'chill' and good humour, reminding us all that in addition to the enormous learning potential of our programs, it's also an adventure to be enjoyed along the way.
Special shoutout to all of our current staff who are doing an incredible job leading programs and providing back-up logistical support. And thanks to Helene de Lagillardaie (Head of Operations) and Sam Hodder (Program Coordinator) for their leadership, skill and care throughout the two weeks.
I already can't wait for the ADFA program in 2023, and am looking forward to getting back out bush with Outward Bound before then.
If you're an Outward Bound Australia staff alumni and interested in getting involved in programs, please reach out to us by emailing people@outwardbound.org.au.